Thank you Connie. You are a wonderful photographer. You were exactly the type of photographer I wanted for our wedding. I found out about "Dawson Photography" through "Simple to Elegant" wedding planners here in Terre Haute, IN. I met with Connie Dawson. She has been a photographer for 27 years. She is excellent at her profession. I would refer her to anyone! She did a fabulous job on my bridal portraits and my wedding pictures. I will be using her again to do family portraits. I have been to weddings where the photographers were obnoxious and everything about the wedding was "getting the perfect pose". She was able to do this without being pushy and insistent. I was very impressed and I will refer her to everyone I know that might need a photographer

Anne

Terre Haute, IN

Connie, you are absolutely amazing! You are so creative, and turned some of the off the cuff pics into amazing pics that i couldn't live without! I haven't seen a picture that you've taken that i haven't fallen in love with! We'll definitely be back for many many more!!!

Amy

Terre Haute, IN

Connie, We just want to thank you for the beautiful wedding pictures and all your work in taking them.  We absolutely love the pictures and we appreciate all you did!  We have gotten so many compliments on the pictures.  And, everyone has told us how wonderful it was to work with you and how nice you made the whole picture-taking process on our wedding day.  We know we will be able to cherish the pictures for years to come! 

Jared and Tiffani

Rockville

Connie is VERY professional, creative, and reliable. She has captured so many awesome pictures for me including my dance pictures, engagement, wedding, and now pictures of my baby boy. For every event, I am always shocked at how many great pictures there are for me to choose from. Not only do the pictures always turn out fantastic, but the picture taking process is always smooth as well. Connie is definitely who you want to capture the most important moments!

Bridget

Terre Haute

We were married in October 2007. Connie was very professional and all of our pictures were so amazing we purchased all of them. She is also very resonable with her prices. I would recommend Connie to anyone that I know! You can't find a better photographer or a nicer person. Love her!

Crystal

Coatesville

Connie is wonderful! She's very flexible! We even gave her a list of additional photos we wanted taken during our wedding day and she met all of our requests! She's peppy, energetic and worked well with all ages in our wedding party!

Gail

North Aurora, IL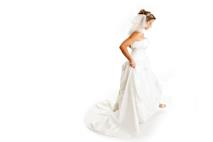 Alena

What a BEAUTIFUL fairytale wedding we had!! Thanks to all of our family & friends who celebrated with us and a special thanks to Connie Dawson @ Dawson Photography who took such AMAZING photos!!

Mollie

Connie, I'm honestly speechless over the pics you took of Alena, and Travis's Wedding. How am I ever going to pick from these breathtaking photos. I want to thank you for help making it a special day, and for being you. So patient, friendly, considerate. Thank you again for everything. Not much of a testimonial for you being a step above in your job, and most importantly as a person.

Ashley

"" Our wedding pictures turned out great and Connie was wonderful. Everybody loved the pictures. She was able to capture all of the things that made our day special, like Hank knocking over his chair (One of my favorites!). A big thank you for dealing with all of our last minute decisions!

Kelli

"" Connie has shot all of my daugthers pictures and she is so good with her. She knows how to make her smile and laugh. We find ourselves having trouble to pick out pics to order b.c they are all SOOO GOOD!!! She is also doing our wedding in a few weeks and our engagement pics have turned out AMAZING as well!!! I don't know how we will ever be able to choose!!! She is very reasonable with prices. I would recommend her for any event!!! Love you Connie!!!

Marcy

Connie is the best! Our wedding pictures were awesome!

Diane

Great pictures and video. There were some award-winning photos that you should enter into every contest imaginable. You have a wonderful eye for an artistic camera shot. Pure magic. Annie Leibovitz, look out!

Steve Lingenfelter

In 40 years of shooting wedding photos, I have seen some beautiful, happy brides. But I have to say that everytime I see another photo of you I think you have to rank as one of the MOST beautiful and TRULY HAPPY looking. (And you know me well enough to know that I don't say things like this without truly meaning it.) Connie totally captured the essence of your happiness and joy and beauty.  (Message sent to bride)

Alena

BRIDES-If you are looking for an affordable, talented and just all around PHENOMENAL person, then Connie Dawson is the wedding photographer for you!! Do not be fooled by posers who simply purchase expensive equipment and simply identify as an "experienced" photographer. Connie has an UBELIEVEABLE ARTISTIC VISUAL and I've had continuous compliments on our wedding photos from friends, family and even complete strangers!! Connie was able to capture every beautiful moment from our wedding day all the while taking advantage of any impromptu photo opportunities. With Connie as your photographer there are NO WORRIES!! She is always well prepared and open to any questions or suggestions that you may have. Thanks to Connie, my husband and I are able to relive our special day through our beautiful photographs and we could not be happier with Connie's work! When you select Connie as your photographer, you are not making a painstaking business agreement; instead you are enthusiastically welcomed into the Dawson Photography Family : )

Amanda

This lady is AMAZING! If you're getting married in the Terre Haute area, I HIGHLY recommend her! ♥

Karen: I have you as a fb friend because you photographed my niece, Darcy's wedding. I must tell you, however, that you are the most talented innovative, artistic photographer I have ever had the pleasure of being witness to. You have such a keen eye for the subtle beauty around us. You choice of back drops, locations and poses are just amazing! I wish you were in my area, I would tell EVERYONE about your work!

Abby:  Connie Dawson is amazing to say the least, She does classic to unique. So many people call themselves a photographer but have no skills and she is the real deal, the quality of her work is breathtaking. I definetly will be coming back to her for all of my photos.